One year ago today...
A year on from European Cup number five, it's no longer the miracle, but the legacy of Istanbul which empowers Liverpool.

You only have to read the comments of Barcelona's Samuel Eto'o after his side claimed the Reds' title to recognise how Liverpool's European Cup triumph captured the imagination, and infiltrated the dreams, of everyone who witnessed it.

"We thought about the spirit shown by Liverpool and still believed we could win it," said the African, clearly yearning a sample of the euphoria from a year earlier.

Of course, Barca's comeback against ten-man Arsenal was routine and, beyond the Nou Camp and Highbury, forgettable in comparison to the heroics of the Ataturk Stadium.

But Eto'o publicised how the achievements of Rafa Benitez's side redefined top flight footballers' perceptions of how to play the game.

No matter how desperate the situation, you should never give up.

Beyond English football, that's never been a rule.

Eto'o isn't alone in declaring Liverpool's exploits a reference point.

You can be sure half-time team talks across Europe since last May have been dominated by Benitezesque motivational speeches, reminding demoralised players that a three goal deficit is retrievable.

If the forthcoming World Cup includes a comeback or two, the words 'Liverpool' and 'Istanbul' won't be far from the lips of the successful post-match interviewees.

Even David Moyes was brave enough to namecheck the Reds when seeking to inspire his side to a sadly forlorn comeback against Bucharest last season.

But while other coaches can point their players towards the images of May 25, 2005, as a source of hope in times of despair, Benitez will always have an unmatchable advantage.

For the Liverpool boss, the true legacy of Istanbul is found in the self-belief and heart of those members of his squad responsible for it.

No matter how far behind Liverpool have trailed since, or how despondent the supporters, no player wearing red will dare submit, and their confidence is based on experience rather than fantasy.

That's why Luton's 3-1 lead at Kenilworth Road in January prompted barely a flicker of concern for those who turned it into a 5-3 victory.

And why even at 2-0 down in Cardiff a fortnight ago, not one of the 23,000 Liverpool fans in the stadium, and 1,000 stopped from getting in, thought the FA Cup was certain to go to Upton Park.

Perhaps this rediscovered self-belief, wrongly dubbed 'arrogance' by those who can't distinguish between the two qualities, has always been a trait compulsory for those honoured with a red jersey. Benitez has succeeded in tapping back into it.

There were plentiful examples prior to Istanbul, obviously.

Liverpool's greatest European comebacks against St Etienne in 1977 and Auxerre in 1992 were beacons in a history littered with largely self-assured, comfortable successes.

These events were celebrated with more zest because games won against the odds are often more satisfying than those which, outside of Merseyside, were often underrated due to their predictability.

Now, even these famous victories been pushed to the boundaries by the events of the past two years, as the new generation defines itself by its own achievements rather than those which shouted 'remember me' far beyond their usefulness.

European nights at Anfield no longer need be previewed with clips of 'St Etienne' when Olympiakos, Juventus, Chelsea and AC Milan are so fresh in the memory.

The Auxerre night has now slumped into the pecking order to be seen as it is. A comfortable victory against a poor French team which should never have been 2-0 up in the first place.

It doesn't even deserve to be in the same book as an account of coming back from 3-0 down to an AC Milan team including Kaka, Shevchenko and Maldini, let alone the same chapter.

It was understandable a night like Auxerre was cherished so much, since the famous European nights since 1985 were so scarce and, 2001 apart, led to very little.

Gerard Houllier's side claimed the famous scalps of Barcelona and Roma on their way to the UEFA Cup, but only when the European Cup returned, and was kept, could Liverpool truly announce 'we're back' and be taken seriously beyond The Albert.

Owning the European Cup can have that effect.

In the 12 months since Istanbul, Liverpool has become a club which can be more at ease with its status as one of the greatest names in world football.

There must have been times when rivals muttered under their breath at those early G14 meetings, with some justification, that the Anfield contingent represented a club that was famous once, but was now lucky to be granted a seat at their table.

For the past year, however, officials from Milan, Madrid, Turin, Old Trafford and others could only look towards Anfield with envy, and return to their clubs with a request for their manager and players to display the same never-say-die qualities.

Most football clubs are fortunate to experience one defining moment in their history.

For Liverpool, it's an endless quest to secure one for each generation.

For those too young to recall the arrival of Shankly and his impact, Istanbul will never be beaten. It will be celebrated in 20 years time with the same verve as those anniversary dinners in honour of the 1977 side.

The books will continue to be published, the heroes of the night endlessly acclaimed, and the tales of how Liverpool jumped from a pit of despair to sip champagne on cloud nine will never fail to enchant and enthral.

And, lest we forget, but for Istanbul Steven Gerrard would probably now be in a Chelsea shirt.

Most significantly of all, if Liverpool's rapid improvement in the Premiership and victory in this year's FA Cup final is anything to go by, those post match predictions in Turkey - claiming Champions League victory would be the start of a golden era - will not be undermined.

As Jamie Carragher said recently: "Don't talk to me about the so-called glory years at Anfield. Look at what we've just won. These are the glory years."



BISCANBUL... AND 100 OTHER FANTASTIC FLAGS



THEM SCOUSERS AGAIN:

No one does flags quite like Liverpool supporters and in Taksim Square in Istanbul a year ago today, the banners were out in force. Here's 101 fantastic slogans that we saw in Turkey...

1. SOME SAY I'M A DREAMER BUT I'M NOT THE ONLY ONE

2. MAKE US DREAM

3. GIMME 5

4. FOR THOSE OF YOU WATCHING IN BLUE AND WHITE, THIS IS WHAT A EUROPEAN CUP LOOKS LIKE

5. PRIDE IN OUR PAST: FAITH IN OUR FUTURE

6. IT'S COMING HOME

7. DESTINY DELIVERED

8. 4 EVER IN OUR SHADOW

9. THOSE WHO FORGET THE PAST HAVE NO FUTURE: 1977 1978 1981 1984: VE DAY 25-05-05

10. WELCOME HOME BIG EARS

11. WE HAVE MANY POSSIBILITIES

12. WINE FOR MY MEN: WE RIDE AT DAWN

13. OUR EYES HAVE SEEN THE GLORY

14. EL RAFA'S TURKISH DELIGHT

15. GLAZER'S DOLLARS OR ROMAN'S ROUBLES? RAFA, JUST 5 EUROS POR FAVOUR!

16. WHAT WE ACHIEVE IN LIFE ECHOES IN ETERNITY

17. BOUND BY WILD DESIRE

18. WE DARE NOT FORGET TODAY THAT WE ARE THE HEIRS TO THAT FIRST REVOLUTION

19. EVEN CHAIRMAN MAO HAS NEVER SEEN A GREATER SHOW OF RED STRENGTH

20. THEM SCOUSERS AGAIN

21. SUPERCROATIGORBISCAN USEDTOBEATROCIOUS

22. NO SMALL TOFFEES FOR FEAST TONIGHT
KOPITES PARTY WITH TURKISH DELIGHT
JOSE… SIR ALEX… LONDON PRESS
ALL CHOKING ON SWEET SUCCESS
MONEY NOT LOVE IS YOUR DRIVE
BUT TELL US… CAN YOU COUNT TO 5?

23. FREE THE MILLWALL 3: GARY'S PAINTING FENCES

24. WEAR RED AND SING THEIR PRAISES

25. YOUR DREAMS ARE OUR REALITY

26. THE FAMOUS KOPITES: ANOTHER EUROPEAN TOUR TO GLORY

27. YOU CAN'T BUY CLASS

28. PURPLE BINS: JUSTICE

29. THE ONLY QUADRUPLE IN TOWN

30. HEARTS AS BIG AS THE CITY

31. NORWEIGAN WOOLS

32. EUROPEAN CAPITAL OF FOOTBALL

33. KINGS OF EUROPE

34. SHANKLY'S RED ARMY

35. THE FAMOUS FIVE

36. THIS ISN'T JUST FOOTBALL: THIS IS EUROPE'S FINEST

37. ROAD TO ISTANBUL: THIS COULD BE ROTTERDAM OR ANYWHERE: LIVERPOOL OR ROME: BUT WHEN WE GO TO ISTANBUL WE'LL BRING THE CUP BACK HOME

38. ALL HAIL KING CARRA

39. DOHA QATAR: REDS ON TOUR: ARE U WATCHING MANCHESTER

40. GREAT THINGS ARE ONLY ACCOMPLISHED WITH PASSION

41. VIENNA REDS: ISTANBUL JOLLY

42. HE PUT NEDVED TO BED AND KEPT EIDUR DOWN NOW SHEVCHENKO CAN'T SLEEP COS CARRA'S IN TOWN

43. FINNAN SOUNDS LIKE WINNIN

44. VIVA BENITEZ

45. CRAZY HORSE 1977

46. THE LADS LOVE TURKISH DELIGHT

47. FAMOUS KOPITES

48. Luis Garcia: UN GIGANTE

49. SAME FACES: DIFFERENT PLACES

50. FCUK THE TOFFEES: IT'S TURKISH DELIGHT WE'RE AFTER

51. MUNCA CAMIMARAS SOLO

52. GRACIAS SENOR BENITEZ

53. WE'VE GOT A BIG POLE IN OUR GOAL

54. KOP A LOAD OF THIS

55. GLORY CAN'T BE BOUGHT: IT CAN ONLY BE EARNED

56. YOU CAN'T BEAT A BIT OF ISTANBULLY: SUPER, SMASHIN', REDS

57. THE SECRET OF SUCCESS IS CONSISTENCY OF PURPOSE

58. RAFA IS THE BOSPHORUS

59. IF YOU CANNOT LOVE US: THEN FEAR US

60. WE ALL DREAM…
1. CARRA
2. CARRA
3. CARRA
4. CARRA
5. CARRA
6. CARRA
7. CARRA
8. CARRA
9. CARRA
10. CARRA
11. CARRA

61. MY LOVE, MY PASSION, MY LIFE

62. MOSES SAID COME FORTH: RAFA SAID NO WE WILL WIN THE CUP INSTEAD

63. BELIEVE REDMEN

64. LIVERPOOL IS OUR RELIGION: ANFIELD IS OUR CHURCH

65. GOD RULED: ST MICHAEL CONQUERED: THERE'S ONLY ONE J.C
23: CARRA GOLD

66. WELCOME HOME YA BIG JUG EARED BEAUT YA

67. FORGET FOURTH: WE WANT OUR FIFTH (99.9% OF SCOUSERS CAN'T BE WRONG)

68. RISE LORD GERRARD: BRING BACK WHAT IS TRULY OURS: IT IS YOUR DESTINY

69. CHAMPIONS LEAGUE: WE'RE HAVIN' A LAUGH

70. CARRA MADE THE KRAUTS SOUR: GRABBED A PIZZA JUVE: RUINED ROMAN'S EMPIRE: NOW FOR THE TURKISH DELIGHT!

71. IT'S NOT TERRY'S: IT'S OURS

72. OUR LADS HAVE COME FROM ALL OVER THE PLACE: THEY TALK DEAD FUNNY BUT THE PLAY DEAD GREAT

73. BORN THE SON OF GOD: JC IS OUR SAVIOUR

74. HISTORY REPEATS ITSELF

75. LOS DE REYES EUROPA

76. FROM PENNY LANE TO LEPPINGS LANE: WE'LL WALK THROUGH THE WIND AND RAIN: WE'VE BEEN TO EUROPE, DRUNK BARS DRY: LOOKIN FOR NUMBER 5 AND GOLDEN SKY

77. THE FUTURE BELONGS TO THOSE WHO BELIEVE IN THE BEAUTY OF THEIR DREAMS

78. THE RING OF FIVE

79. HUYTON FATTIES

80. LIVERPOOL WAS MADE FOR ME AND I WAS MADE FOR LIVERPOOL

81. HISTORY WILL BE KIND TO US FOR WE INTEND TO WRITE IT

82. WE ARE THE PEOPLE

83. Steven Gerrard: Jamie Carragher: THE ITALIAN JOB

84. THE RAFALUTION IS HERE

85. 4 KEBABS AND 1 EUROPEAN CUP

86. LFC GLADIATOR: SUCCESS IS A JOURNEY NOT A DESTINATION

87. GENIUS DOES AS IT MUST

88. IT IS LEFT TO GREAT MEN TO DO GREAT THINGS: DO THEM THE LIVERPOOL WAY

89. FOREVER MAKING HISTORY

90. IF YOU CAN IMAGINE IT YOU CAN ACHIEVE IT: IF YOU CAN DREAM IT YOU CAN BECOME IR

91. RAFA'S RED ARMADA

92. THE BADABING

93. YOU BEAUTY, YOU BEAUTY: ANDY GRAY IS A KOPITE

94. 2 DOGS. Grrr!

95. SCOUSE SOLIDARITY: NEVER FORGET: NEVER FORGIVE

96. THE IRREGULARS: DID YOU REALLY THINK WE'D LEAVE YOU DYING?

97. MONEY CAN'T BUY THESE: PRIDE PASSION PEDIGREE: THE REDS ARE BORN WITH IT

98. IN THE TOWN WHERE I WAS BORN

99. ALI BABA WAS A SCOUSER

100. CHAMPIONS LEAGUE: WE'RE HAVIN KEBABS


Click here to see our Istanbul Flags Picture Feature: Part 1>>
Click here to see our Istanbul Flags Picture Feature: Part 2>>
Download your Happy Istanbul Day ca...
Three days in Istanbul: A Diary
In Istanbul, by the Bosphorus
One year on - enjoy it all again
PICTORIAL TRIBUTE TO ISTANBUL 05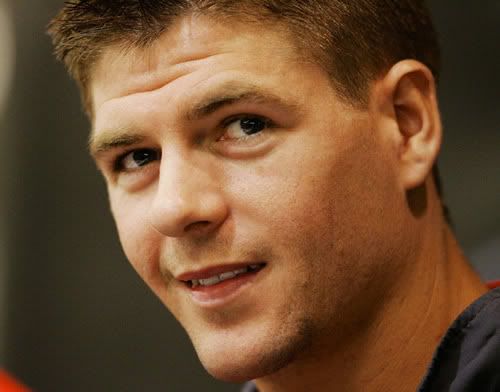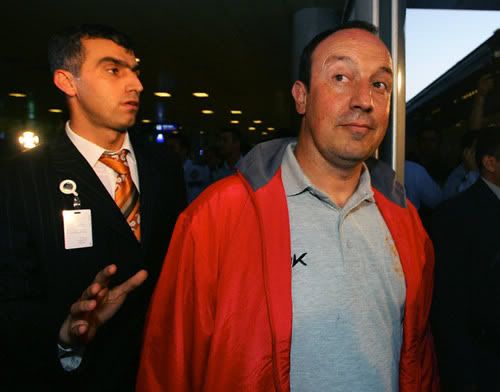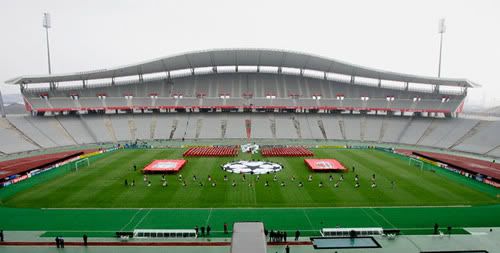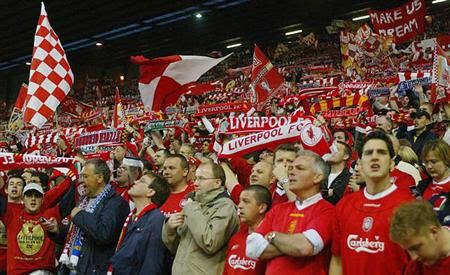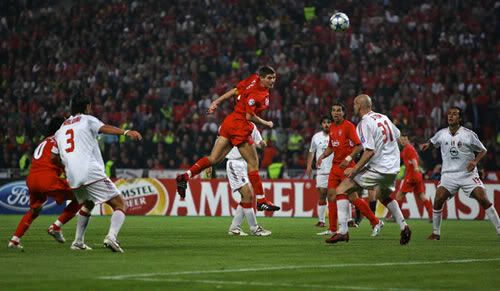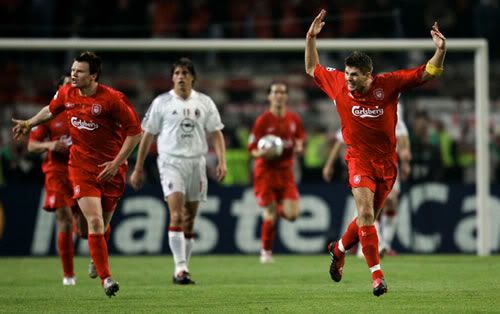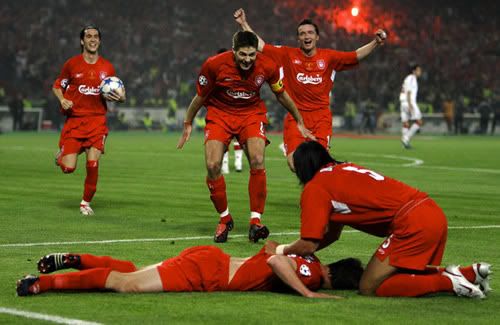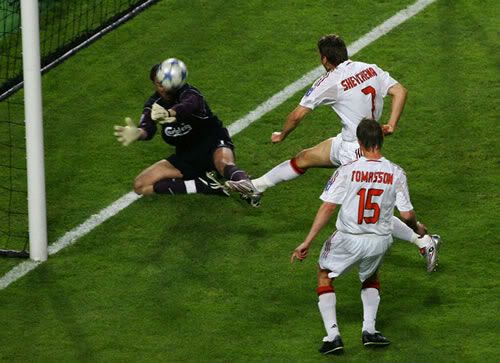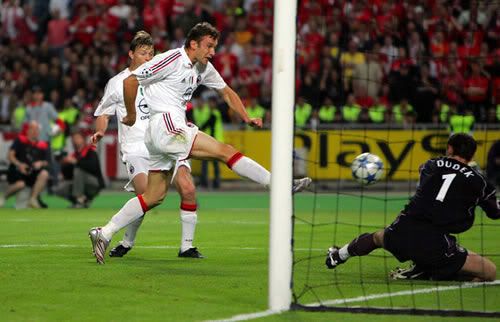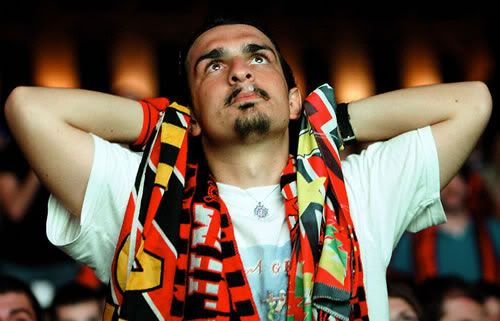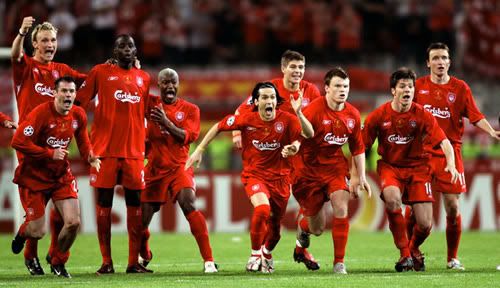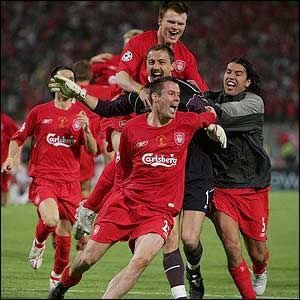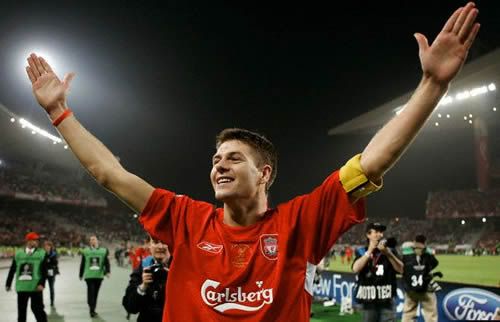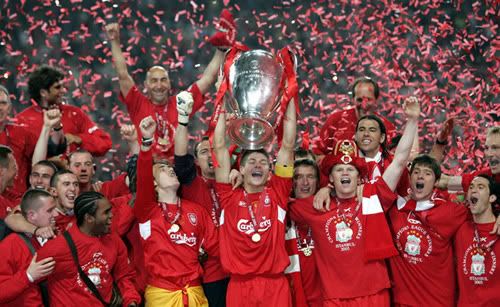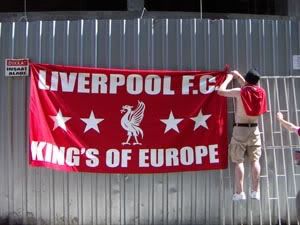 5 days in Istanbul



Come listen to a legend made
A story that will never fade
Of how an army dressed in red
Helped keep alive what all thought dead

It all began one April morn
When thoughts of exodus were born
As plans were drawn and bookings made
Because our men had made the grade

Full fifty-thousand men and true
All anxiously searched high and low
For transport and a place to stay
Around the 25th of May

Thank goodness for the internet
For most accommodations met
But transport was a different thing
Too few vacancies on the wing

And then there came a fearful wait
As we all panicked on our fate
As only 20,000 places
Were given up as Liverpool spaces

For some of us the news was great
But others had a lesser fate
And had to borrow beg or steal
Or strike a most expensive deal

But somehow 20,000 more
Still managed to improve our roar
They made their deals, they proved their worth
They traveled far across the earth

And so the 23rd was here
We crossed all Europe without fear
Arriving now in Istanbul
The planes, the cars, the trains all full

A night of joyous hopeful talk
As we all sang "You'll never walk…"
And thoughts go forward 2 more days
As locals watched us all amazed

The party of the Tuesday night
Was awesome, just a sheer delight
Now thousands all around the town
And clever banners all around

The day of destiny it came
The morning of our fateful game
The army met in Taksim Square
All red and white, it's everywhere

They'd travelled there by road and train
By sea, by coach, direct by plane.
With shuttle stops, connecting flights,
On wings, on wheels, on overnights,

From Viking shores and USA
From Asian parts and Mandalay
From Ireland and from Merseyside
From all around we came with pride

And so the army gathered there
And songs and humour filled the air
The legion scousers led the tide
And other reds stood at their side

The convoy started off with pride
It was a most unpleasant ride
At last we reached the Ataturk
Who put it there? the stupid berk!

Its miles and miles from human trace
A really most unpleasant place
But time it passed though it was wild
And to the stadium gates we filed

Full 40,000 reds were there
As "Fields" and "Tommy" filled the air
11 Carra's pleaded for
Rafa's "la Bamba" so much more

The coverage of the game's been full
So I'll not add by being dull
At halfway point we hung our head
We thought our dreams were killed stone dead

But somewhere one persistant soul
Sang "walk alone" behind the goal
And others joined and heads did lift
It was just like a miracle gift

And all around the twelfth man sang
Around that dismal place it rang
Our men emerged and all amazed
The cocky Milan seemed quite fazed

Somehow we came back one-two-three
And we all danced and cheered with glee
The white shirts slunk around it all
And red shirts seemed to be ten feet tall

And finally our dream came true
As old and young cried tears anew
But tears of sheer and shameless pride
This worldwide cult from Merseyside

We travelled back base to en bloc
With quiet thoughts as we took stock
At Taksim square we partied right
With celebrations through the night

The days that followed are a mist
With godlike power we'd been kissed
We watched the bus ride from afar
As friends back home first saw that jar

We sang, we drank we were reborn
At bars along the Golden Horn
And when at last we drifted home
And knew that we'd not walked alone

We did our bit that fateful night
My brother's brown or black or white
I raise my glass through wind and rain
It's cheers until we meet again.

EUROPEAN CHAMPIONS... WALLPAPER