Top Ten Own Goals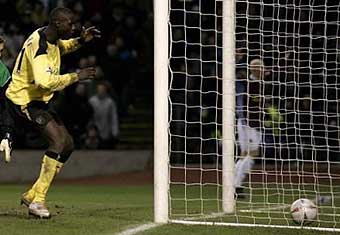 We all love them and want to see more of them (not from Liverpool, ofcourse), so here's a little collection of some of the most memorable own goals from recent years. Lets all laugh at these poor sods



TEN:
Djimi Traore:
How on earth can this man be a CL winner



NINE:
Tromso:
Wonderful skill!



EIGHT:
Gary Neville:
the inbred c*nt



SEVEN:
Jimmy-Floyd Hasselbaink:
Fantastic diving header!



SIX:
Ronnie Whelan's
mesmerising chip over the keeper.



FIVE:
Enklemen's
brilliant first touch - or the lack of it?



FOUR:
Franck Queudrue:
Beautiful long range effort!



THREE:
Goalkeeper
completely loses the plot in this one... and the ball!



TWO:
Chris Brass:
One of the funniest ones EVER!



ONE:

The best one certainly has to be this effort from
Jamie Pollock
, such a delicate touch to lift it over the forward and the other defender then a confident header to chip it over the goalkeeeper. Majestic.




And if you still want more, here's a
compilation
of some more brilliant own goals.